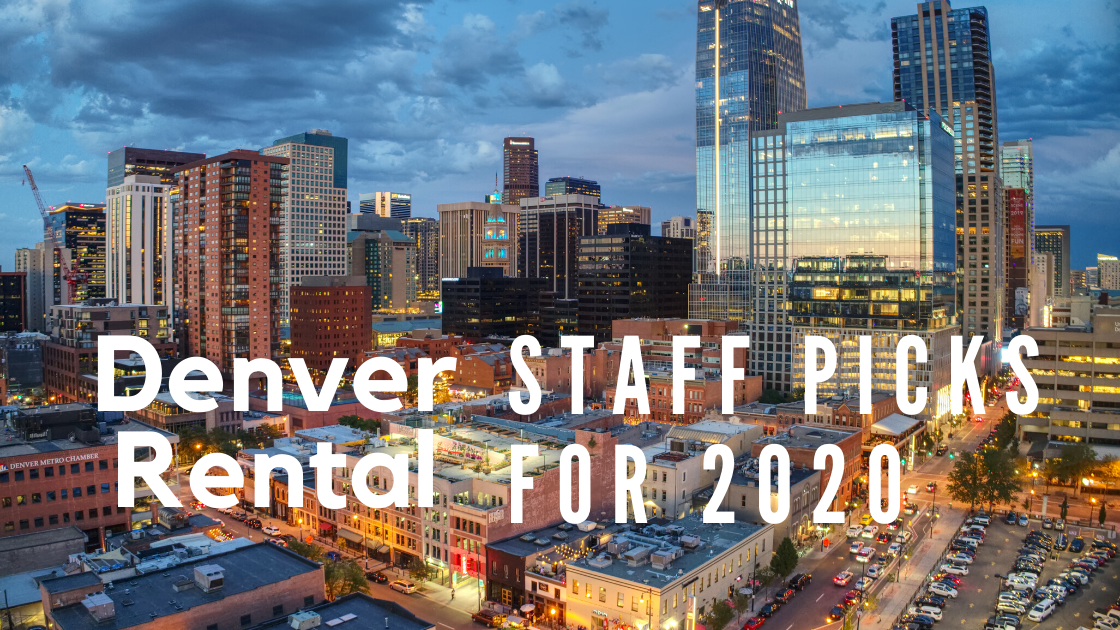 Our Staff Picks for 2020
Everybody knows there are plenty of incredible hot spots, some better known than others here in Denver for noshing eats, drinks and venturing out. Wondering where we think you should check out? While this certainly doesn't include all of our favorites, here's what we think you need to know about dining & outing in Denver in 2020.
Where to Eat Fresh Sushi in Denver
Our first pick is simple yet authentic and deliciously fresh. Park Hill Sushi Co. is rolling up just that with the basics like unagi rolls, tuna sashimi, wagyu beef bites, Hamachi (yellowtail) & quite the assortment of Japanese beers and whiskey. It's a fast, fresh option with a hip Asian vibe on East Colfax in Denver's thriving Park Hill neighborhood. Find Park Hill Sushi Co. at 4900 E Colfax Ave, Denver, CO 80220
When you're looking to explore the oceans in an upscale setting, head over to Cherry Creek, just a few blocks away from the Denver Rental office for a dining experience at Matsuhisa. From impeccable décor to the incredible assortment of Japanese entrees, sushi, & other chef's specialties making this Michelin rated restaurant by Nobu, a highly rated restaurant showcasing freshness and creativity. We highly suggest letting the chef make their choice of preparations and selections and surprise you with absolute goodness. Visit Matsuhisa at 98 Steele St, Denver, CO 80206.
Making for a contemporary outing at the exclusive Uchi in RiNo, chefs showcase artistry and incredible libations in the perfect backdrop where to be seen. A reservation is highly suggested to minimize the wait but it's everything worth it from rolls to the sashimi melting in your mouth. With an incredible menu and assortment of dishes, their raw assortments are their best and the sake selection, quite impressive. Locate Uchi at 2500 Lawrence St, Denver, CO 80205.
Hot Spots for Social Hours & Later Night Libations
With so many new choices it's just hard to stay away from some of our usual Denver hotspots. At the top of our list is Ophelias Electric Soapbox downtown offering live music and incredible dining. With lights down, this makes for the perfect group outing or fun date spot. With international artists playing regularly and a menu of deliciousness for dinner or Sunday brunch, the drink menu and bartender skills will certainly be impressing. With an American menu rotating seasonal flavors, be sure to get out and put this one on your list. Be entertained at Ophelias Electric Soapbox 1215 20th St, Denver CO 80202.
Over in LoHi/Highlands, we just can't get enough of Lady Jane. In this perfectly designed hot spot for bringing groups together or getting away for private conversations, this sister-location to Hudson Hill in Capitol Hill (another recommendation) not only has the most impressive craft cocktail list but the greenery and ambience make this a must visit on the regular. From their old fashioned to the martini and even their coffee, everything is perfectly curated for the pickiest of palates in this upscale and classy environment great at any hour, early or night. With bites to nosh & an incredible assortment of non-alcoholic concoctions, too, Lady Jane makes for the perfect starting point or final destination. And did we mention their vinyl selection? Get over to Lady Jane 2021 W 32nd Ave, Denver CO 80211.
Our final favorite and recommendation for this 2020 list is the ultimate jazz bar and supper club, Nocturne in RiNo. With phenomenal jazz artists nightly, we love having live entertainment paired with ambience perfect for any special occasion and a menu of dishes to die for. From the traditional to explorative, the pairing of wine and entrees makes for a memorable evening of music and dining we think will have you coming back. It's also a great place to pop-in at the bar for a nightcap or two. Checkout Nocture 1330 27th St, Denver CO 80205.
Treats & Brunch and Other Notable Things
And we just had to squeeze in another addiction of ours, ice cream. What list would be complete without a treat? Since it's not too far from the office, we love swinging into Sweet Cooies in Congress Park for a delicious ice cream and other sweet things. From fresh waffle cones, sundaes and ever-changing flavors, we highly recommend getting your sweet tooth fix. Grab a scoop (or two) at Sweet Cooie's Ice Cream and Confectionary 3506 12th Ave, Denver CO 80206.
For Sunday brunch we love heading over to Table 6 for an eclectic variety of delicious, healthy and decadent food choices. From fabulous mimosas with fresh squeezed juice to the best French Press coffee, the selection of food for brunch ranges from the incredible breakfast burger sure to fill any appetite to the Asian fried rice. Relax with the perfectly manicured beats from none other than DJ Ginger Perry, setting the mood during your Sunday recovery. Indulge at Table 6 609 Corona St. Denver CO 80218.
Just arriving in Denver and want to hear more great recommendations? Come visit the Denver Rental office where our leasing and property management professionals can help you find your next home or manage your property. Make an appointment to come visit Denver Rental 215 St. Paul St Suite 130, Denver CO 80206 (303)682-3900. We're centrally located in the fabulous Cherry Creek North neighborhood.